Changing Landscapes Initiative
Today's actions can have a significant impact on the future. Land use decisions influence the availability of life-sustaining and life-improving natural resources, ranging from clean water and productive soils to open spaces and cultural heritage sites. The Changing Landscapes Initiative (CLI) takes a landscape-level approach to explore how we can manage working landscapes for the greatest benefit to future generations of people and wildlife.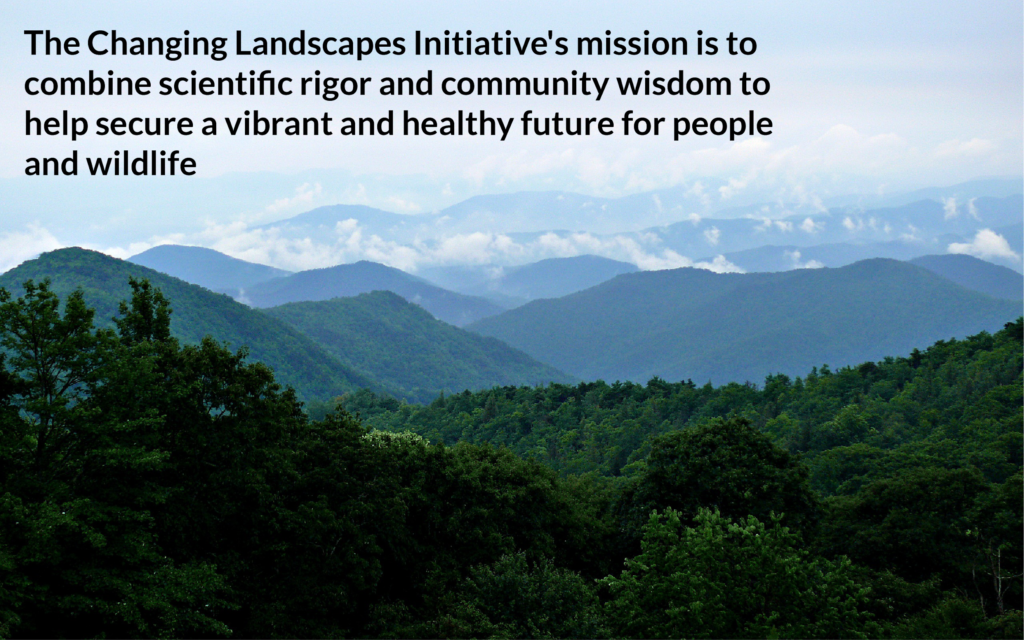 "The Changing Landscapes Initiative" (or, CLI), ties newly developed field surveys that measure pollinator, bird, and mammal diversity, landscape connectivity, stream health, and invasive species threat to modeling approaches that allow us to examine patterns across the overall landscape.
The CLI is led by the Smithsonian Conservation Biology Institute, Virginia Working Landscapes, Harvard Forest, and the Smithsonian Environmental Research Center. It is currently supported by the Shenandoah National Park Trust, the Piedmont Environmental Council, the Smithsonian Grand Challenges Initiative, and several private foundations.
The guiding mission of CLI is to combine scientific rigor and community wisdom to help secure a vibrant and healthy future for people and wildlife. CLI aims to fulfill this mission by participating and promoting actions to 1) protect the landscape's ecological and cultural heritage and their contribution to quality of life for current and future generations of people and wildlife; 2) build upon our current understanding of land use and regional planning as it relates to natural resources and the local economy; 3) engage the public in envisioning their shared future and their contribution to its outcome; and 4) educate the public on the importance of wildlife diversity to human well-being.
The CLI's focal region encompasses a 15 county region along the Blue Ridge in Northern Virginia. Through on-going collaboration, we hope to gain a better overall understanding of our region and guide local and regional decision-making.
About CLI
Mission
to combine scientific rigor and community wisdom to help secure a vibrant and healthy future for people and wildlife
The Changing Landscapes Initiative (CLI) is a program of the Smithsonian Conservation Biology Institute (SCBI). We partner with a network of NGOs, agencies, regional landowners and scientists.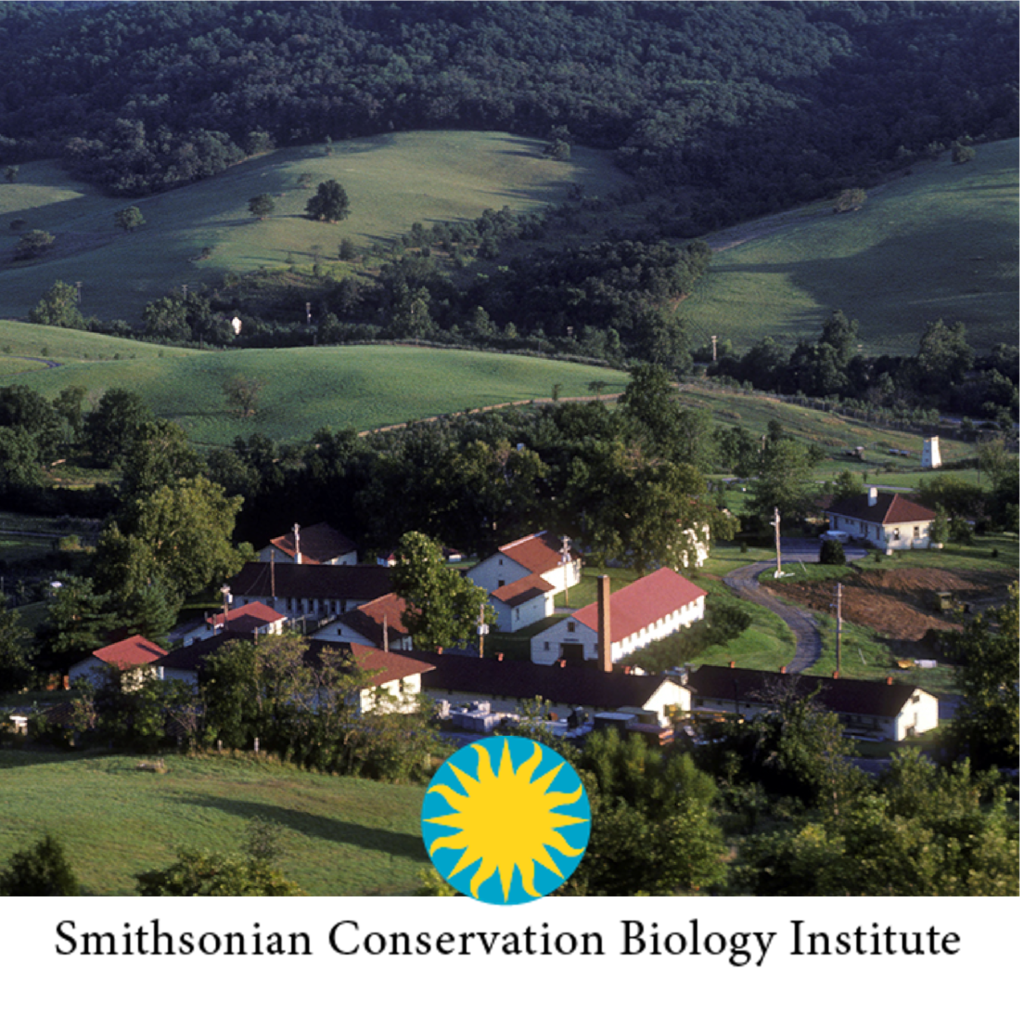 Team
CLI Collaborators
Study Region
The Changing Landscapes Initiative focuses its efforts in Northwestern Virginia within a 15-county region surrounding the Shenandoah National Park
The Commonwealth of Virginia's population size has doubled in just a little over 40 years.
There is a projected increase from 7.8 million to 9.8 million by the year 2030.
Without strategic planning, expansive unplanned growth can result in the destruction of critical habitats and natural resources, loss and fragmentation of the landscape, disruption of the land's natural processes and ecosystem services, and reduction of lands for agriculture and forestry – one of the largest economic sectors in Virginia.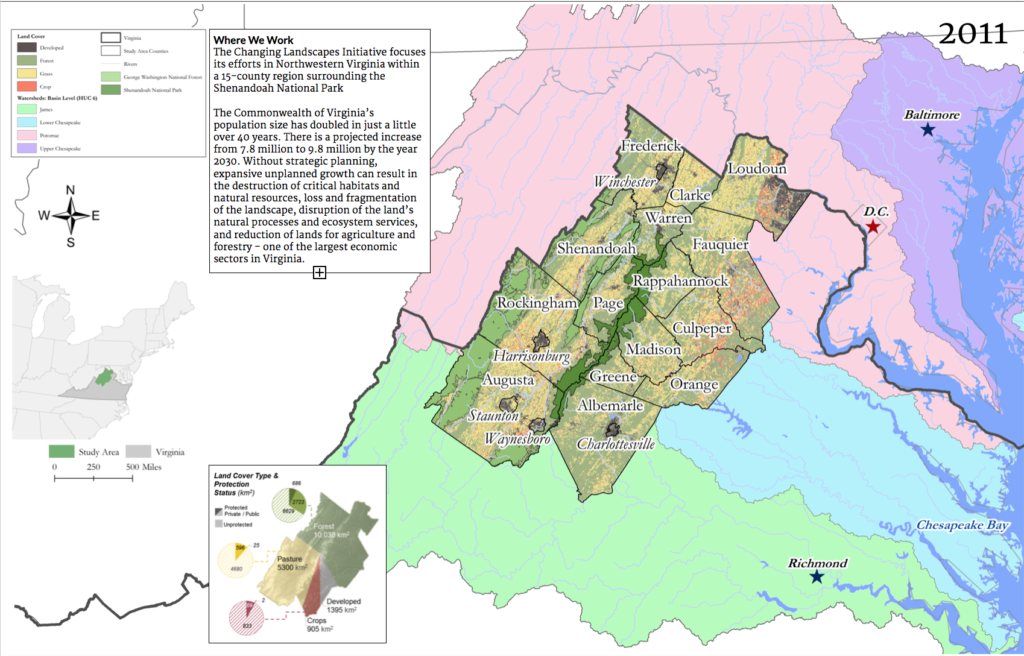 What's at Stake?
Smart land use supports natural disaster control & prevention
Since January 2002, there have been three emergency declarations and 18 major disaster declarations in Virginia; 9 of them include flooding. Between 2010 and 2014, 313 floods caused $25.9 million in property damage in Virginia. Most Virginia residents are familiar with major road washouts and damage to private residences. Conserving land in floodplains protects the wetlands and other natural areas that absorb these potentially flood waters.
Forests protect water and air quality.
Two-thirds of the country's clean water supply is provided by forests. Large amounts of healthy trees are also vital to producing clean air. The forests of Northwestern Virginia provide residents with spaces for tourism, recreation, and solitude. Our forests are also rich with wildlife, including iconic species such as the black bear, bobcat, endangered Shenandoah salamander, spotted turtles, and barred owls. Forests comprise over half of the focal area for CLI; just under a third of this forested land is protected public land and 7% is protected private land.
Dependence on cropland for agriculture is deeply rooted in Virginia's culture.
5% of the focal area is cropland with less than 1% protected public land and 8% protected private. There are 46,000 farms in Virginia that provide 311,000 jobs, making agriculture an important part of the economy—even in the most urbanized communities.
Grasslands protect water quality, provide habitat, and boost agricultural production.
Grasses comprise a third of the focal area with less than 1% protected public land and 11% protected private land. These areas capture water and filter pollutants, minimizing contaminants before they reach our surface water supplies. They also provide habitat for native birds and pollinators essential to Virginia's agricultural production.
CLI's Work
When faced with an uncertain future, our best defense against unwanted outcomes is to plan.
Traditional planning methods simply consider historic trends, narrowing their focus to the most predictable or probable outcomes. Because the future is rarely a perfect reflection of the past, we must use planning tools that consider events that may alter the future in improbable way and unexpected ways.
" The problem with the future is that it is different. If you are unable to think differently, the future will always arrive as a surprise."
-Dr. Gary Hamel, American Management Expert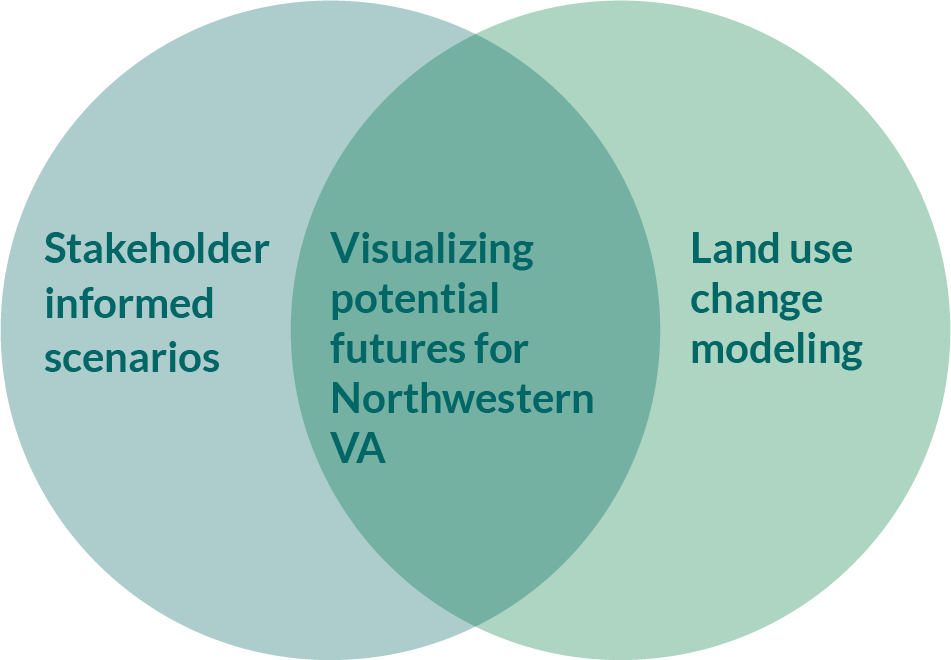 How Can We Plan for an Uncertain Future?
The CLI uses Scenario Planning as the framework for our initiative. It is used widely in the business community to respond to the volatility of markets.
Scenarios are stories. Scenarios are not meant to be a prediction of the future, rather they serve to prepare us for those improbable, yet highly impactful events. The Scenario Development process also challenges us to acknowledge our biases, identify our shared values, and address unknowns.
So, What Are We Doing?
The CLI engages community leaders in a Scenario Planning process to produce alternative storylines of the future that will be integrated into our combined understanding of land use change and its impact on ecosystem services.
Our scenario planning process can be outlined in five steps: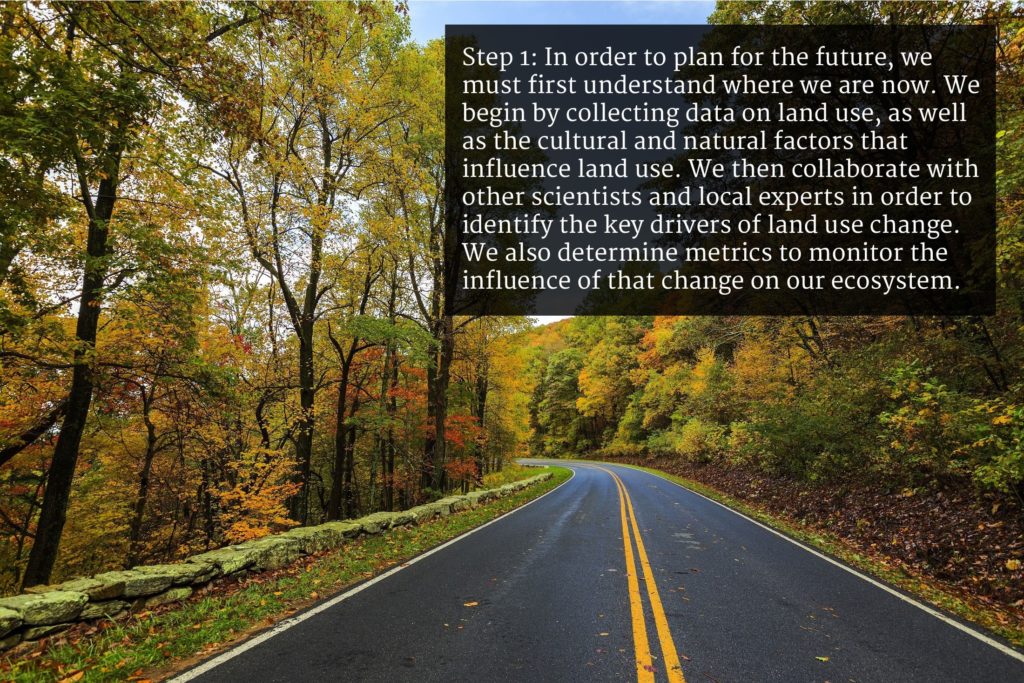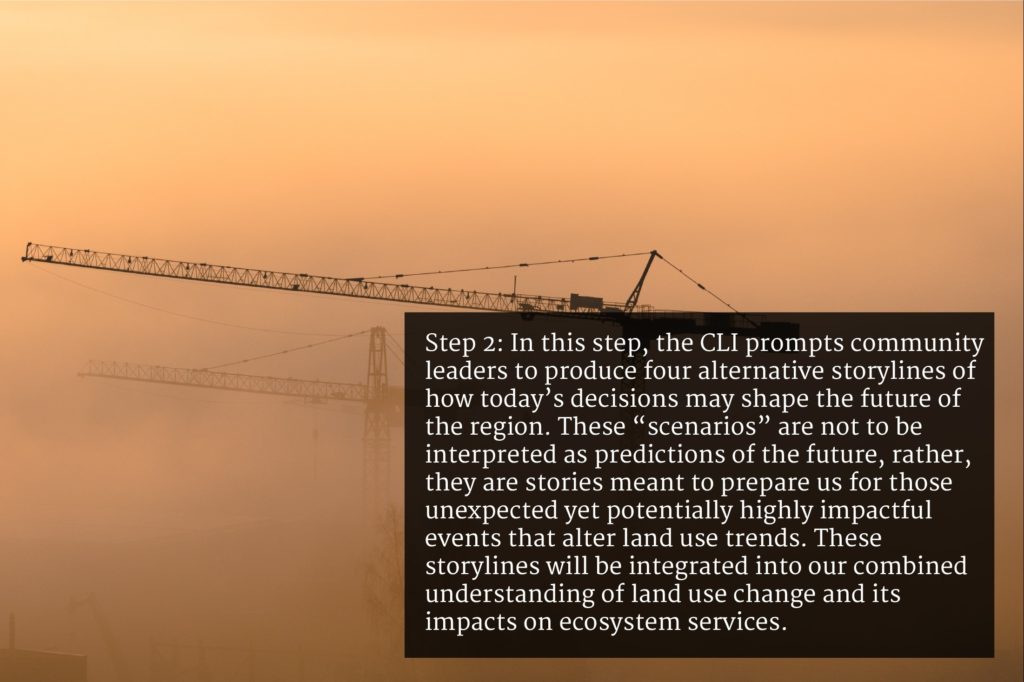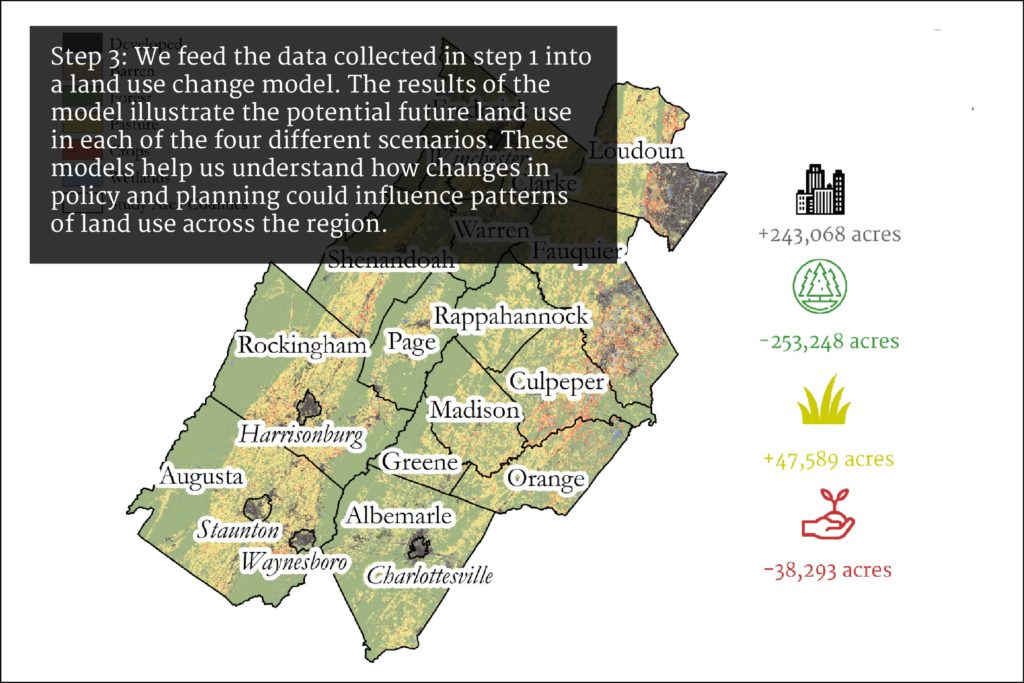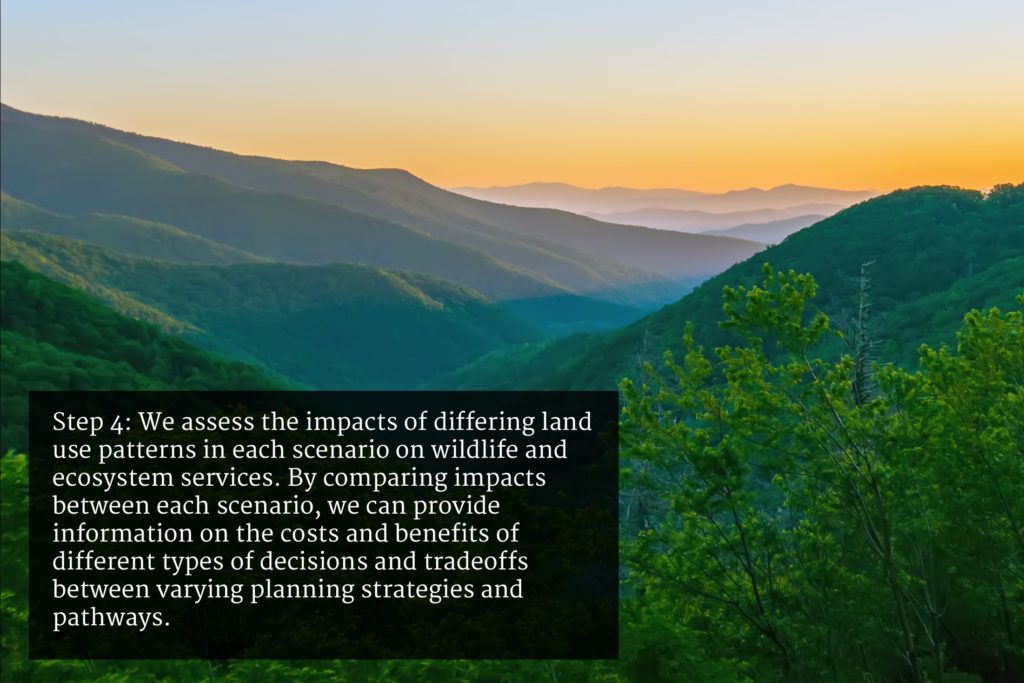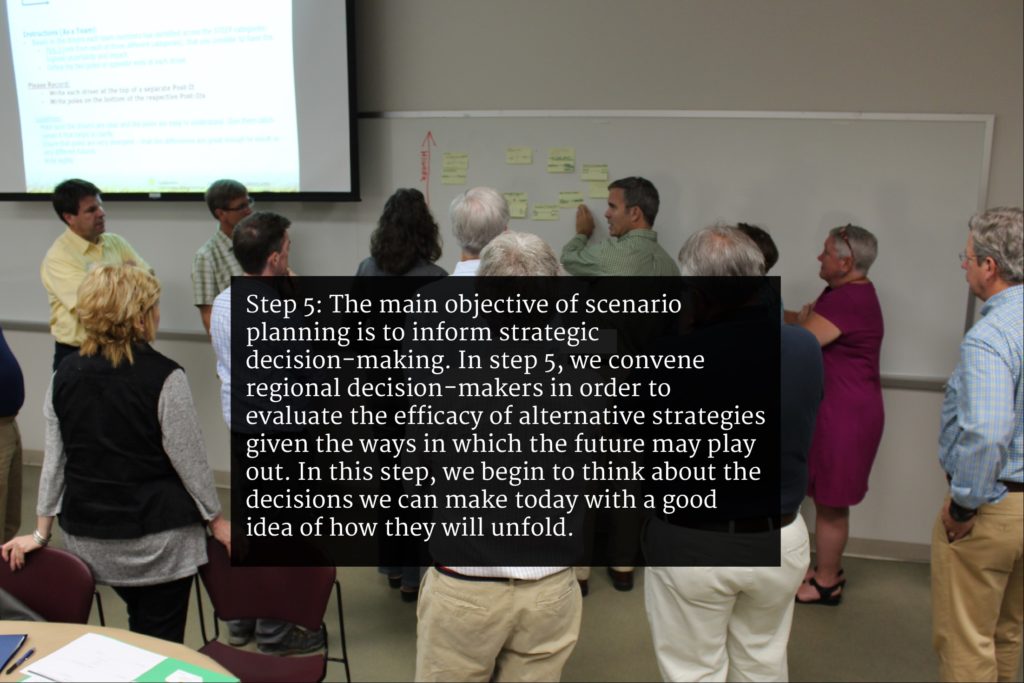 What Are Our Scenarios of the Future?
With the guidance of our stakeholders (a group of conservationists, scientists, and regional decision makers) we created four scenario narratives, or alternative storylines of the future. We translated the scenario narratives into visual representations of what the land may look like in 2061.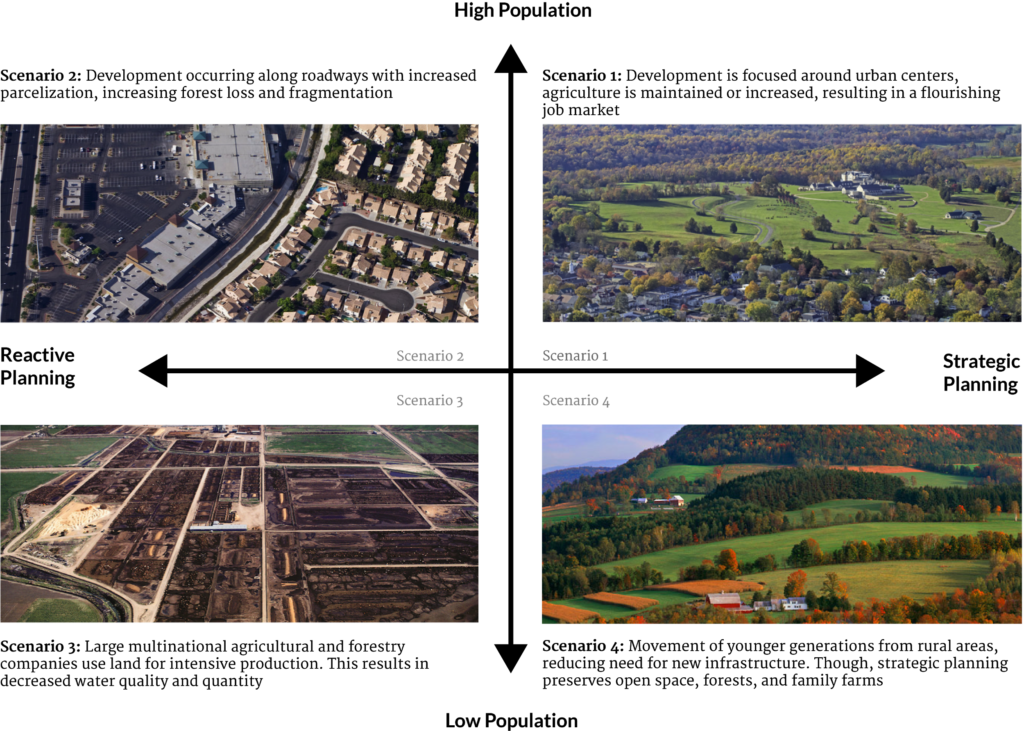 We integrated details from the four scenario narratives into models to illustrate the differences in land-use change after 50 years.
A scientific model is a representation of a particular phenomenon of the world using something else to represent it, making it easier to understand.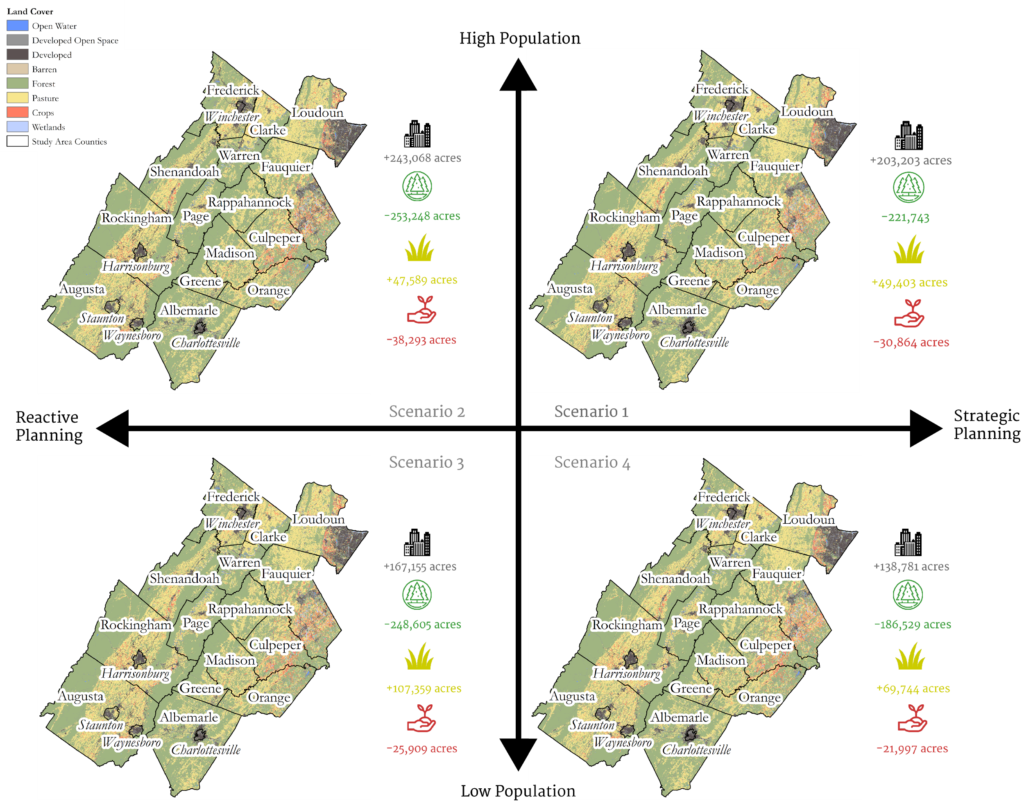 In Scenario 2 and 3, development spreads in a diffuse pattern across a large area, often following major roads. This growth pattern can lead to increased forest/habitat fragmentation.
In Scenario 1 we see development concentrated around cities, but still a higher total development increase than in scenarios 3 or 4.
Results and Moving Forward
Now that we have created models of our potential future landscapes, we need to understand how the land use changes may impact the ecosystem, as well as the people and wildlife that live in this future. We will explore land use change impacts in terms of:
Water Quality/Quantity
Biodiversity
Monetizing Services
Risk Assessment
Comprehensive Plans and Zoning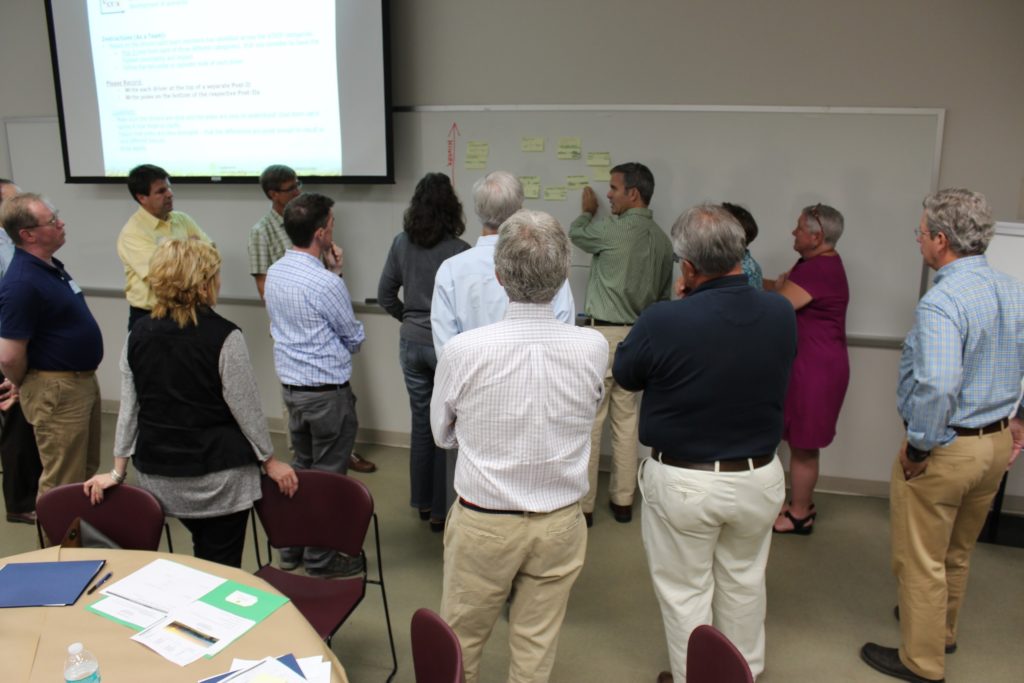 Step 5: Stakeholder Input in the Next Phase
The goal of the next step is to reconnect with stakeholders so they can lend their expertise to evaluate scenario impacts, identify potential strategies or action options, and structure monitoring research around on-the-ground planning and decision-making.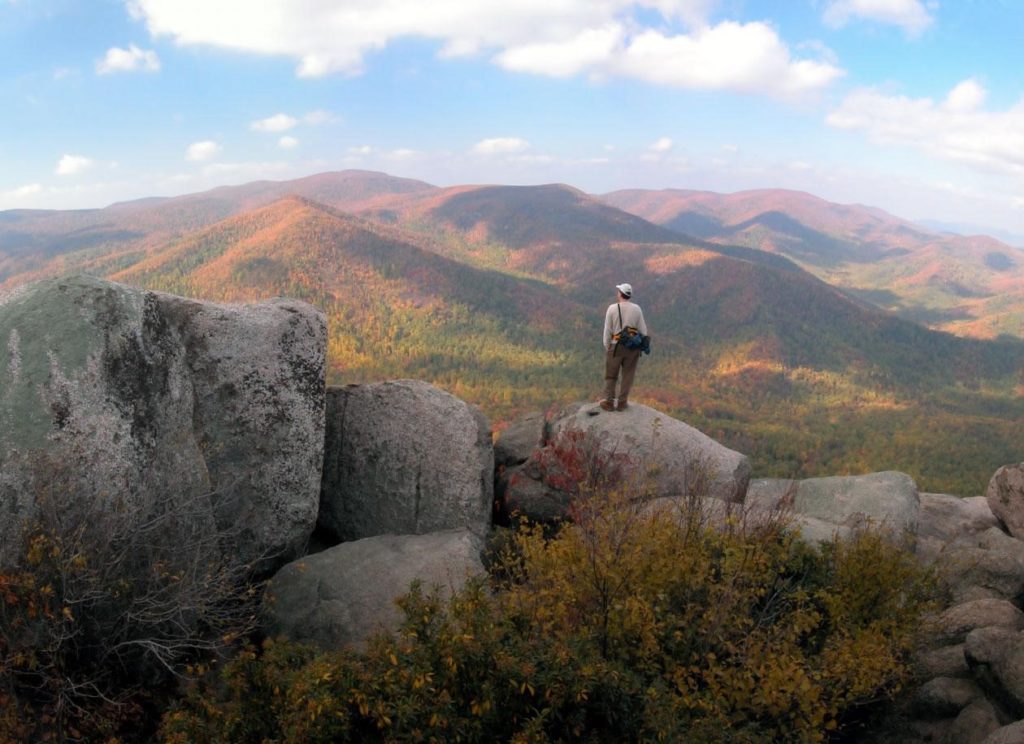 Moving Forward
We will be applying our land use model outputs to ecosystem services like water quality and quantity, biodiversity, risk assessment, and more, providing stakeholders with additional strategic foresight and practical information.
Decision makers can use this information to determine the types of land management policies most likely to provide ecological and economic benefits, in addition to clarifying the trade-offs of implementing various management plans.
Vision for the Future
The CLI's Vision for the Future is to serve as a precedent for strategic planning in a changing metropolitan area—where residents' cultural values, natural systems, and development exist and occur harmoniously.